Balloon Delivery in Adelaide Metro Areas
Balloon Delivery in Adelaide Metro Areas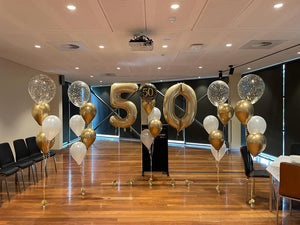 Are you planning a special event or celebration in Adelaide? Look no further than The Party Superstore to add a touch of magic and excitement to your occasion. Whether it's a birthday party, anniversary, or corporate event, balloon deliveries are a fantastic way to create a memorable experience for your guests. In this page, we will explore everything you need to know about balloon delivery service in Adelaide Metro Areas.
Why Choose a Balloon Delivery Service?
1. Convenience: With a balloon delivery service, you can skip the hassle of picking up and transporting balloons yourself. The balloons will be delivered right to your doorstep or event venue, saving you time and effort.
2. Wide Variety: Balloon delivery services offer a wide range of options to suit any occasion. From colorful helium balloons to custom balloon bouquets, you can find the perfect balloons to match your event theme and style.
3. Professional Setup: Balloon delivery services not only deliver the balloons but also provide professional setup. They will ensure that the balloons are arranged beautifully, creating an eye-catching display that will impress your guests.
How Does Balloon Delivery Work?
1. Choose Your Balloons: Start by browsing the party superstore website to choose the balloons you want. You can select from various sizes, colors, and designs to create the perfect balloon arrangement.
2. Provide Event Details: Once you've selected your balloons, provide the balloon delivery service with the necessary event details, such as the date, time, and location of your event. This will ensure that the balloons are delivered on time and to the correct address.
3. Delivery and Setup: On the day of your event, the party superstore will deliver the balloons to your specified location. They will handle the setup, ensuring that the balloons are inflated, arranged, and secured properly.
Frequently Asked Questions
Q: Can I customize the balloons with a personalized message or logo?
A: Absolutely! Many balloon delivery services offer customization options, allowing you to add a personal touch to your balloons. You can include a special message, name, or even a company logo.
Q: How long do the balloons last?
A: The lifespan of balloons can vary depending on factors such as temperature and handling. However, helium-filled latex balloons typically last around 8-12 hours, while foil balloons can last for several days.
Q: Can I schedule a specific delivery time?
A: Yes, most balloon delivery services allow you to schedule a specific delivery time. This ensures that the balloons arrive at your desired time, whether it's before the event starts or during a surprise moment.
Q: What areas in Adelaide do you deliver to?
A: Our balloon delivery service covers all metro areas in Adelaide, ensuring that your balloons can be delivered to any location within the city.
Now that you know all about balloon delivery service in Adelaide Metro Areas, you can easily add a touch of joy and elegance to your next event. Choose a reliable balloon delivery service, select your favorite balloons, and let the professionals take care of the rest. Your guests will be delighted by the vibrant and festive atmosphere created by the balloons.